Willow Oak Avenue Kitchen Renovation in Ocean View DE
Winner of the 2022 Builders and Remodelers Association Best Renovation $50k-$75k Regal Award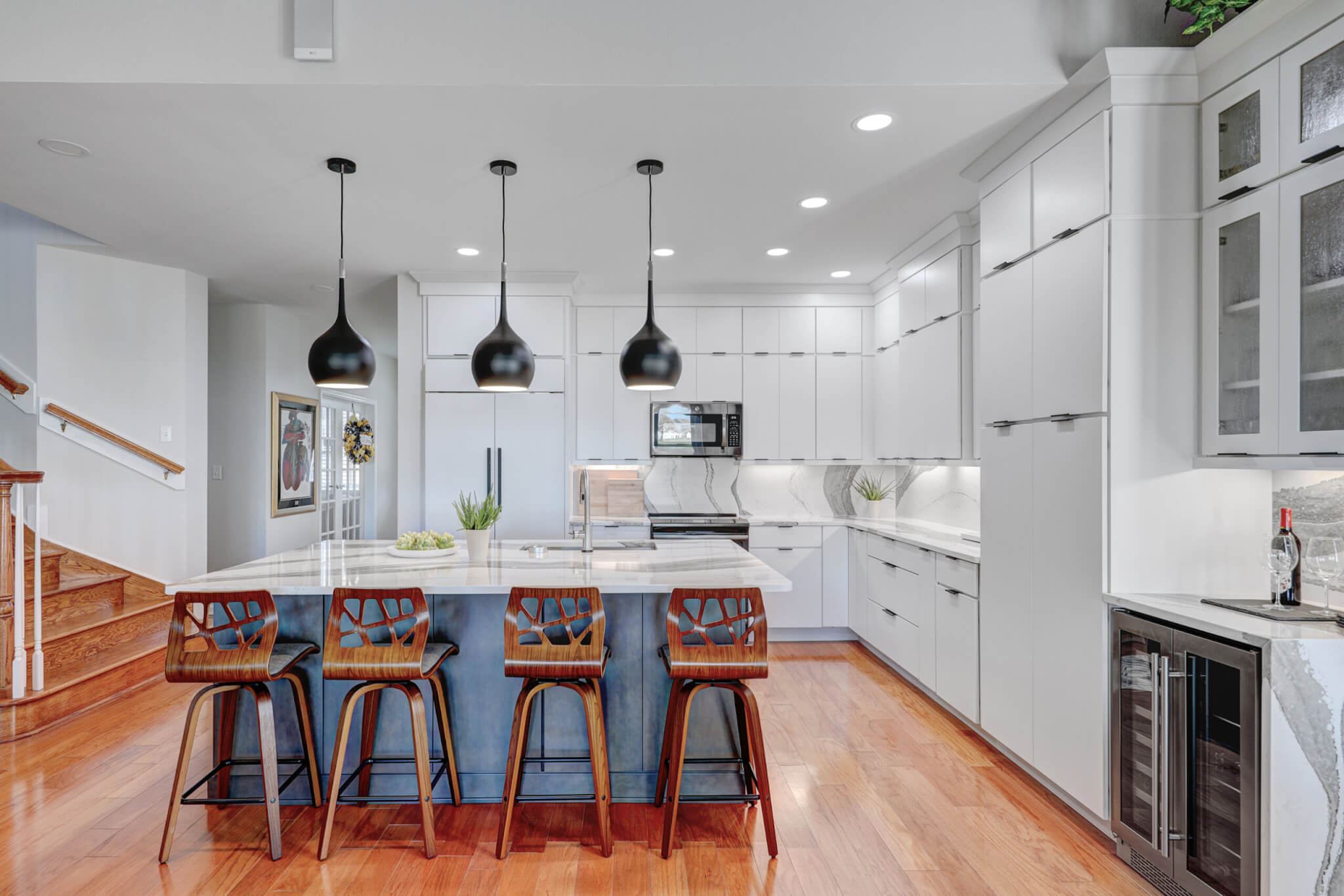 Because of this skilled design-build team's experience, tackling the challenge of matching older flooring with newly laid product was met with efficiency. First, they painstakingly patched and repaired the old flooring. Then they matched up the new planks. By paying close attention to every plank, grain and detail, the old and new flooring came together seamlessly. When creating a floor to ceiling cabinet design within a shell, other challenges can arise. If just one appliance or cabinet is not set perfectly, the rest of the kitchen layout can be skewed.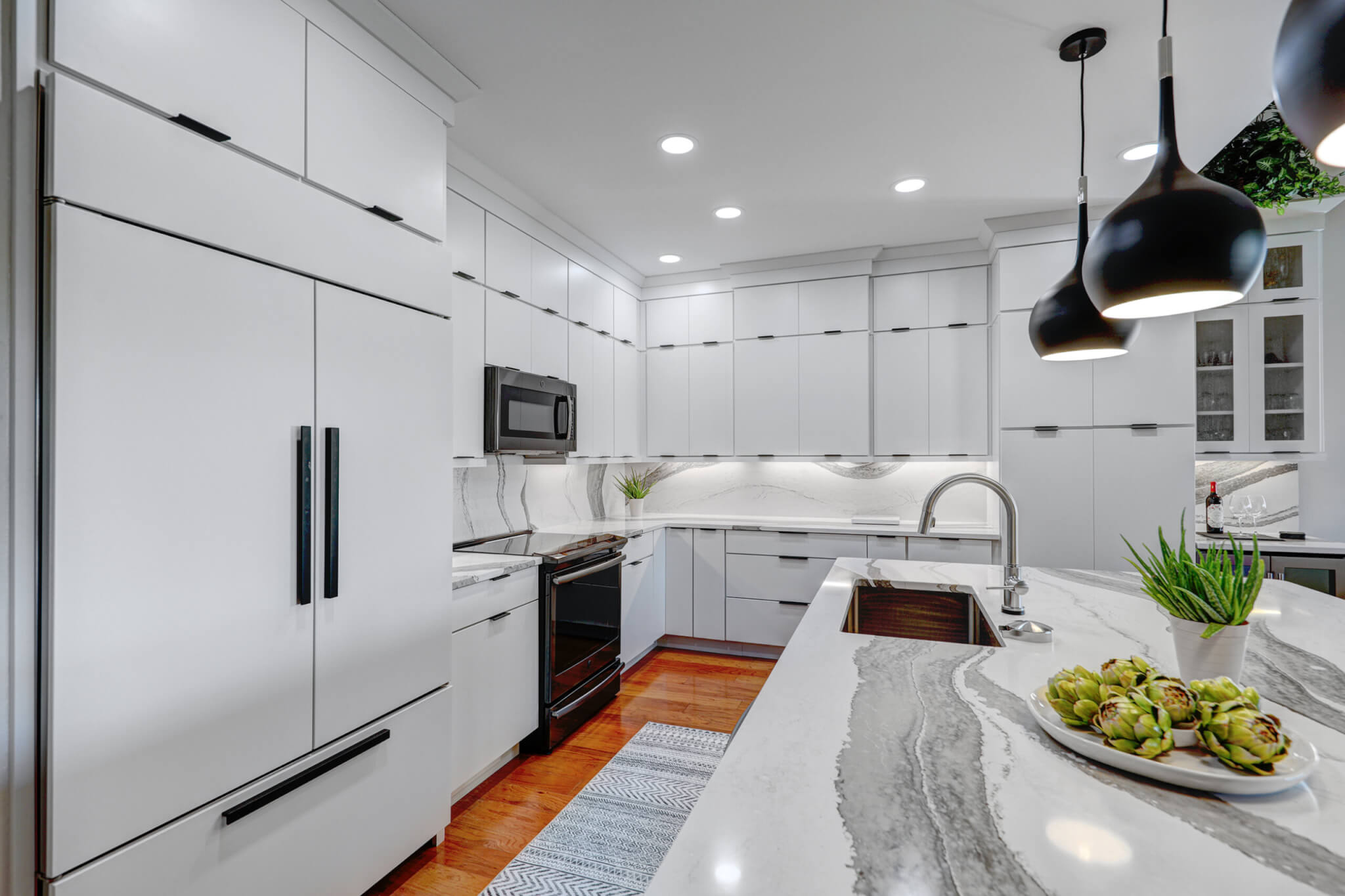 The French door refrigerator/freezer, new appliances, maple cabinets, waterfall granite counters and backsplash all look as though they were assembled as one modern art exhibit. Like a jigsaw puzzle, every piece was perfectly aligned with one another for continuous lines throughout this newly appointed kitchen. The homeowner was overjoyed with the excellent job.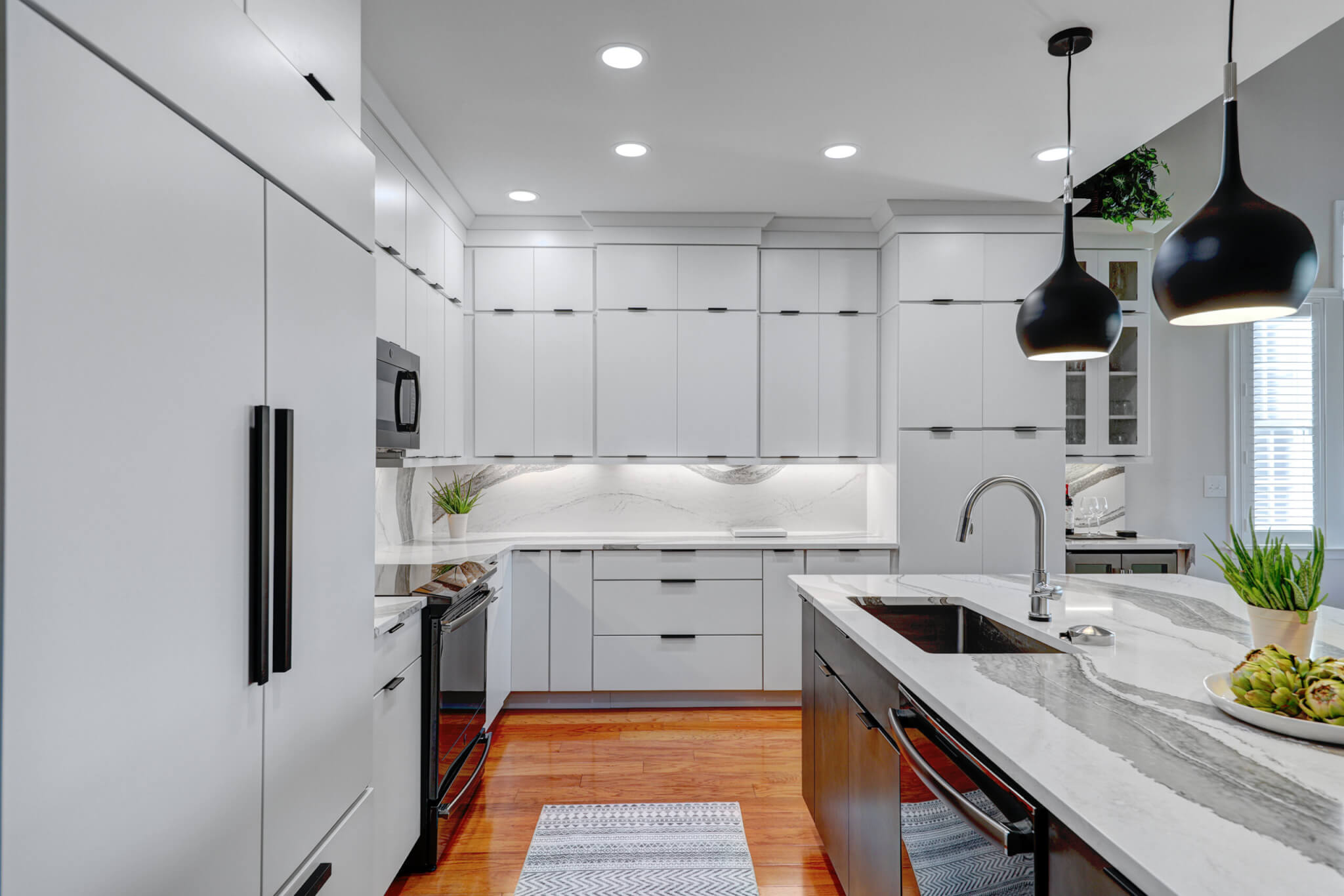 This Ocean View customer really wanted a sleek, sophisticated, modern looking kitchen with all new appliances, accents and fixtures. They also dreamed of more counter and storage space along with new flooring to match the slightly older hardwood.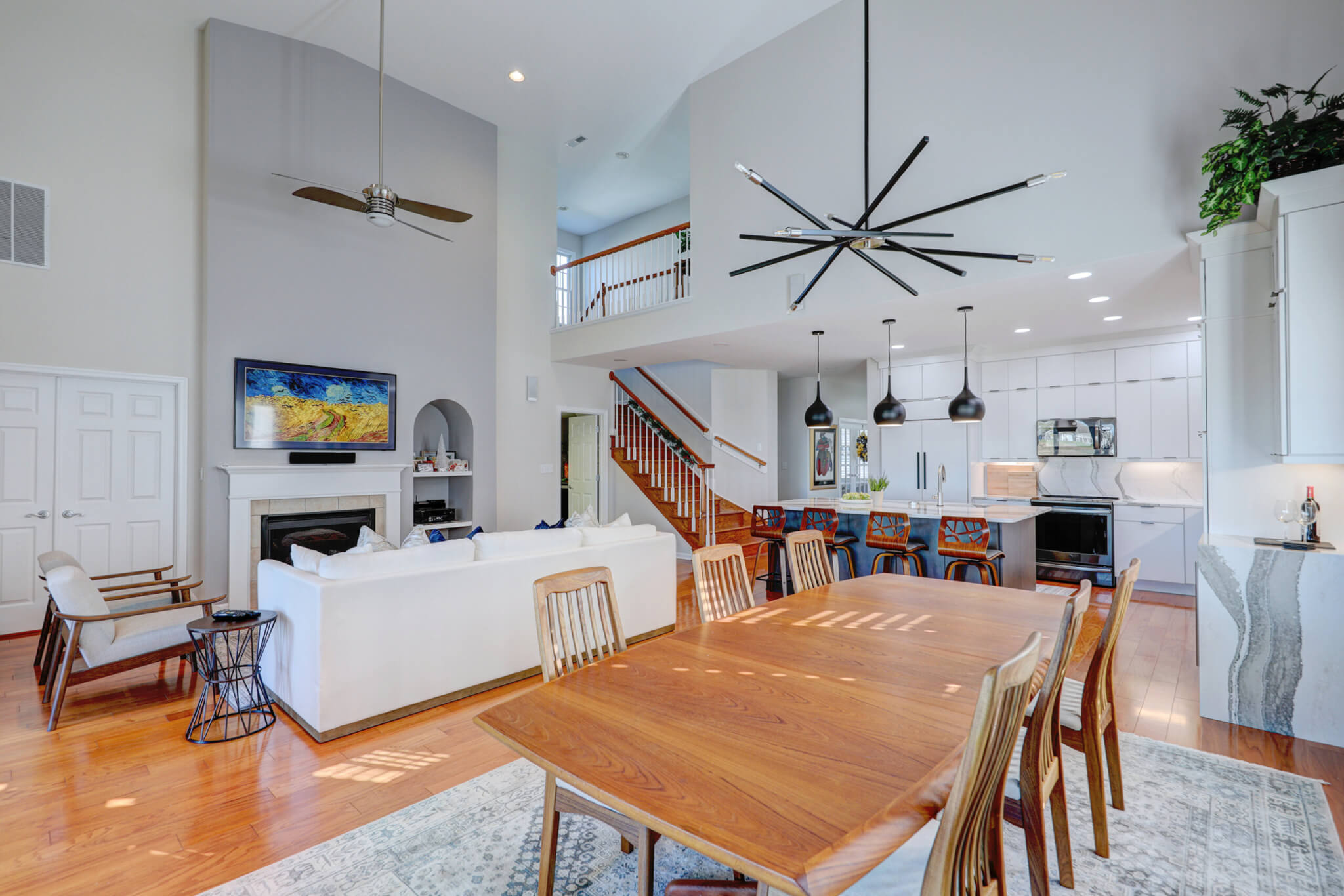 She envisioned new appliances, wine bar, accents, and removal of a tall 2 level, clunky kitchen island that unobstructed views into the living room area. This design challenge was achieved by removing the existing 2-level, tall center island and constructing a current, large one-level flat center island that could seat 4 comfortably. This also allowed for better integration with the living room area and beyond.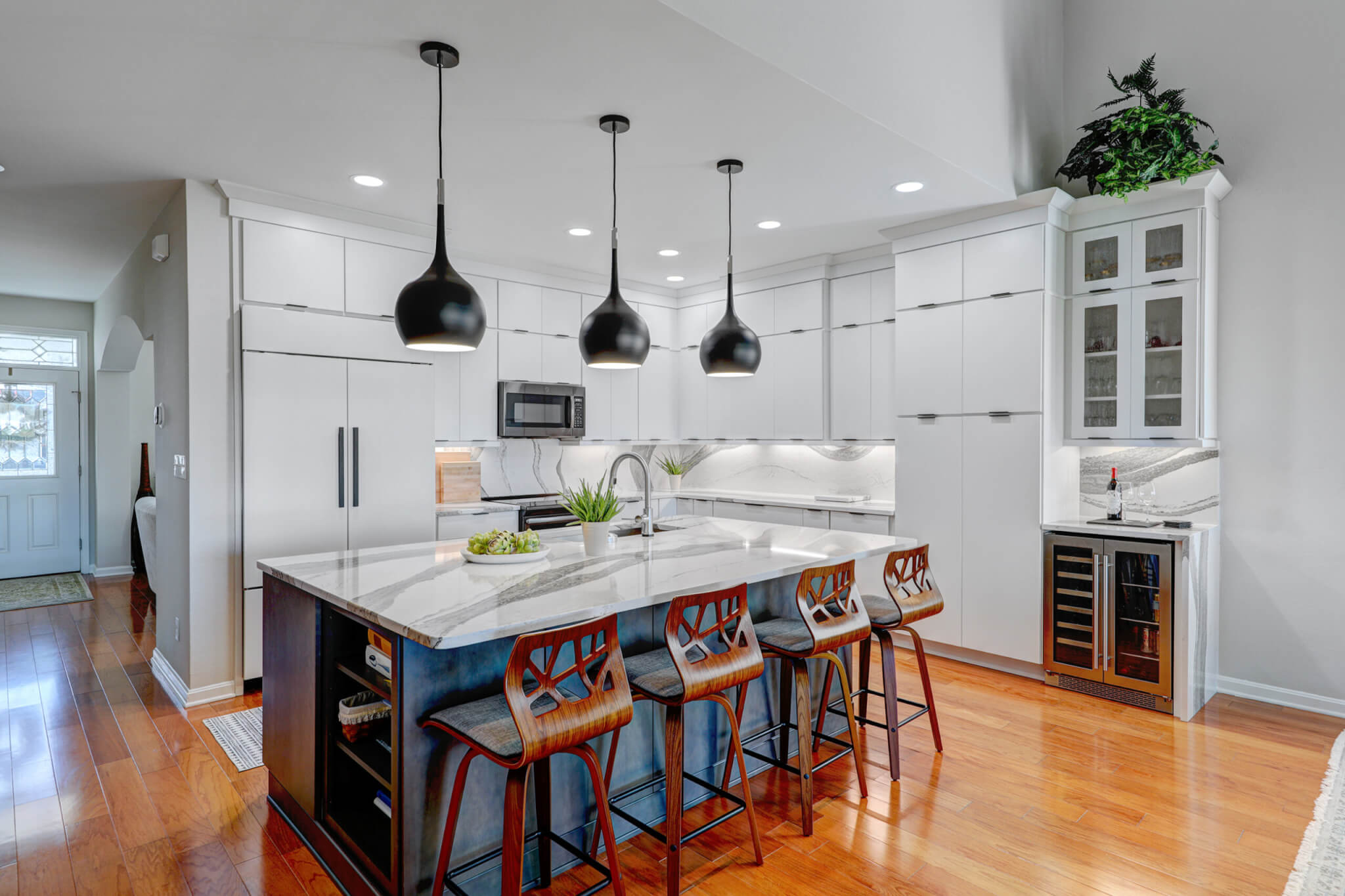 The palette of the entire area was transformed from dark and old to bright and refreshing. The Sub-Zero paneled French door refrigerator/freezer, polished handle accessories, additional wine-bar, and stained Wellborn premier Milan maple cabinets with contemporary flat facing floor-to-ceiling cabinets add to the excellent design aesthetic.
Before photo of the kitchen remodel below.